Home on the Rocks
April 23rd, 2011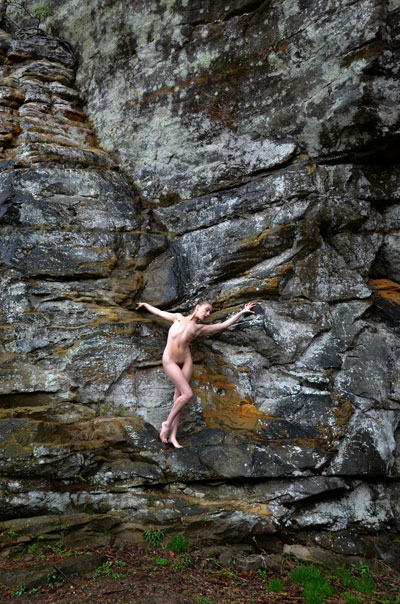 Brooke is here visiting.  That makes me happy.  I work with quite a few wonderful models.  They are all special, but Brooke is more special than any other model I've ever worked with.  She's my favorite.  I guess I shouldn't say that and I hope that none of my other models feel bad because I've said that, but it's true and I really can't hide how I feel.  Brooke just totally understands what I'm trying to do with my work and we work together as a team with almost no need to explain anything.  Brooke gets it.  Add to that the fact that she is beautiful, talented and very pleasant to be around…well, I'm having a very good week.
The first day she was here we did the photo above, along with a lot of other work that you'll be seeing here soon.  This was a special shoot.  I returned to the scenes of my youth to do these photos.  This was a place where I hiked around and canoed when I was a kid.  I camped here with a boy scout troop that I decided not to stay with.  I'd been camping on my own for years…I think I was 8 or 9 when I started grabbing a blanket and wandering out into the woods to spend the night.  When I went there with the boy scout troop that I thought I was going to join…well they made camping such a miserable experience that I knew right away that I didn't want them ruining my time out in woods. 
This location was private property back then, but everyone used it as a park.  Later it was made into a nature preserve, and there is still a nature preserve there, but the good parts, for reasons unknown to me, have been once again declared private property.  There was a sign announcing that fact, but not prohibiting entry, so we went to the good places.  I would have gone anyway.
When I was a newspaper photographer for the local daily the canoe livery that rented canoes on the river near this cliff hired me to shoot photos for a brochure.  The owner took me down the river in his canoe and I shot photos.  One of the photos was a very nice shot of the cliff near this photo overlooking the river.  That night some guys who went to high school with me were camping on top of the cliff.  They got drunk, as was the custom.  In the middle of the night one of them got up to take a leak and, in the dark, walked off that cliff and fell to his death in the river.  My photo of the cliff from below ran on page one in the next day's newspaper.
This visit to this beautiful spot was a lot happier.  The light was perfect and the weather was tolerable, though Brooke did get a little chilled eventually.  But the photos look like some of the best things Brooke and I have done together.  It's good to go home again, even if you never really can.  All those years ago I knew there were photos to be made here.  Long ago I did shoot some fashion photos there for the newspaper.  But it is a place that is just perfect for the kind of figure work I do.  It feels good to go back there and do what needed to be done.
Thank you Brooke.  You are the greatest.
More to come.