Spring Has Sprung
April 15th, 2011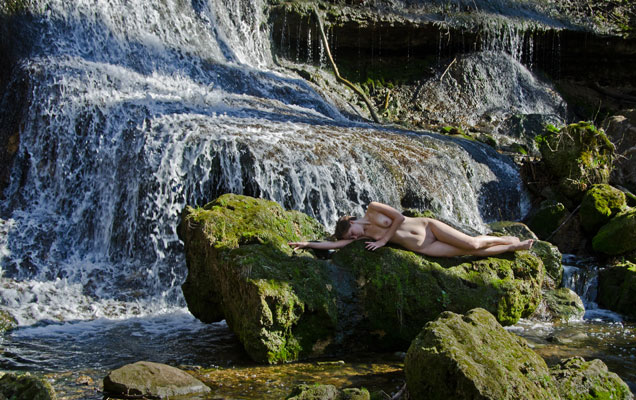 I know it's spring here in Ohio because I've already shot the first frozen model of the year here.  Thanks to Angie we slipped out to our favorite local waterfall for a shoot earlier this week.  We got a later start than we had hoped for, and, of course, the sun was out full force, so I got to play around a bit with the ways my D7000 can deal with high contrast.
I'm still learning the ins and outs of this new camera, but it does have quite a bit more capability when it comes to difficult light.  It's amazing in low light, as I've seen when shooting dance performances.  And it's much better with direct sunlight than any past digital camera.  I've learned things I can do in the camera and others in software after the fact to get more control of the extreme contrast that direct sun creates.  But I don't think I've got it quite right yet.  The tonal range in this photo is pretty good.  I don't think there are any blown out highlights or empty shadows, at least none that are a problem for the photo to work well.  But I'm still not quite happy with the overall look of the photo.  It has a sort of "digital" look that is not quite what I'm after. 
I suppose if I actually took a class on PhotoShop, or even finished reading the book on it that I've had for more than a year now, I might be able to do a little better job.  I'm completely self-taught with PhotoShop and all I generally do is minor adjustments similiar to what I'd have done in a wet darkroom in the old days.  Plus occasional cleanup of minor distractions that I would not have been able to deal with in the past with film.  But situations like this require more work and I think a bit more skill than I currently possess. 
One thing I've started doing with all photos like this is starting in Camera Raw before moving to PhotoShop itself.  I do that even with jpegs, though I've started always shooting RAW files when I find myself in a difficult lighting situation like this one.  The tools in Camera Raw allow a lot of adjustments that are very helpful with high contrast.  And I've also used the highlight/shadow tool in PhotoShop.  But I still don't think I'm there yet.  Maybe I need to take a trip up to Minneapolis and get my friend Stephen Haynes to try to teach me a thing or two about PhotoShop.  He knows more about it than I can ever hope to learn.
I've done three shoots this week and been busy with other, non-photo things.  Lots more shooting planned for the coming week.  You'll soon see results here.