Dance and the D7000
March 25th, 2011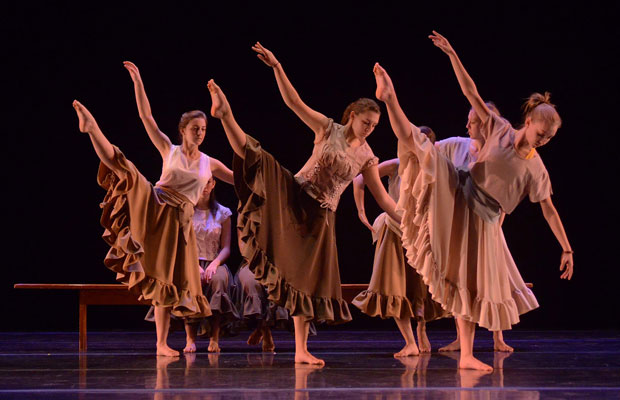 One of my major motivations for getting the Nikon D7000 was the improvement I thought it would make in what I could do with dance photography.  But I really had no idea how huge an improvement it would be over my D200.  Now I know.
I've been shooting dance since the 1960s.  Back when I started it was Tri-X developed in Acufine.  We pretended that Acufine would give us an ISO (ASA back in those days) of 1600.  What it really gave us was blocked up highlights and empty black shadows.  But it gave us something on the negative that we could try to make a decent print from.  Most of the prints were barely passable, but since there was nothing better, they were good enough.
The D200 was incredibly better than Tri-X in Acufine.  But the D7000 is so much better it is almost as big a leap forward.  The D7000 has made major changes in the way I can approach shooting dance.
Because 3200 and even 6400 ISO are completely usable speeds with the D7000…6400 is better than 1600 with the D200…I'm now able to shoot with my 35-70mm f/2.8 zoom lens instead of being limited to my 50mm f/1.4.  That lets me do much more work at actually framing a photo while I'm shooting instead of just capturing what's there and cropping later.  That also means better quality on single dancers, duets and smaller groups because I can zoom in instead of cropping later.
That's what I expected.  But there were some surprises as I worked with the new camera and figured out what it could do.  The autofocus system on the D7000 is amazing.  I was able to leave it on auto and it found the right focus point and nailed the focus almost immediately.  A big improvement over manually moving the focus point around on the D200 to match what the dancers were doing…and missing focus a lot because the D200 was just too slow to focus.
But the best surprise was the auto exposure system on the D7000.  Always before I've shot dance with the exposure set manually.  The contrast of the stage scene was just too much for the meter to manage in any auto setting.  But not so with the D7000.  I quickly learned that I could set the meter on Program (or, as some have noted, that "P" on the control dial might just stand for "Professional").  I found that if I dialed in 2 stops of underexposure compensation the meter would give me perfect exposures every time as the light changed throughout the dance pieces.  That was a huge improvement over my past practice of noting each lighting change and making a note of the required f/stop and shutter speed and then manually making those changes while shooting the dance.  Now I could just concentrate on capturing the action.  The only exposure adjustments I needed to make were to move to 6400 ISO when the light was very dim and back to 3200 when it got brighter.  I was able to shoot at 3200 ISO nearly all the time, with just occasional moves to the higher ISO at dark moments.
Once again I'm very happy with my new camera.  It is making things possible that were not possible before.
These photos are from the concert I shot at Ohio University at the beginning of this month.