Naked Chicks in Trees
March 11th, 2011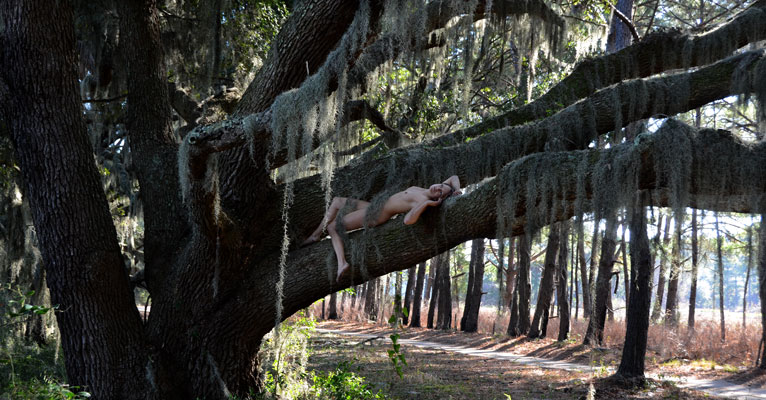 I don't only take photos of naked chicks on rocks.  Sometimes I do photos of naked chicks in trees.  While I was down south I was blessed with the chance to work with a wonderful new (to me) model, Charlise.  I had actually contacted Charlise on an earlier trip down to South Carolina, but it didn't work out for us to shoot on that trip.  But this time when I got back in touch she was available.  Not only that, she was willing to drive out from Charleston to a nature preserve that I had hiked around in before wishing I had a model with me.  And, of course, she had to make that drive in the pre-dawn darkness because I wanted to shoot the sunrise on the beach.  We'll get to those photos later.
But, for years I've wanted to do something with live oak trees and Spanish moss.  I've tried it a number of times, but finding just the right tree in just the right location, just the right model and just the right light has been elusive.  This time I came pretty close as you can see in the photo up top.  I'd be happier if we had had an overcast sky to work with, but the backlighting works pretty well here.   I hope to do another shoot with Charlise in this same location sometime in the future on an overcast day. 
Despite the bright sun presenting challenges for me, Charlise did a great job modeling and I was able to come up with a number of photos that I'm happy with.  I'm still learning all the features of my new Nikon D7000 and I suspect that as I get to know more about the options to control contrast in the camera I may be able to do a better job working in this kind of light. 
Lots more to come from this shoot, but for now enjoy a closer view of the lovely Charlise in a tree below.  Not every tree in South Carolina has Spanish moss, but they can still make some nice photos.