Herb Ascherman At The Kinsey Institute
February 4th, 2011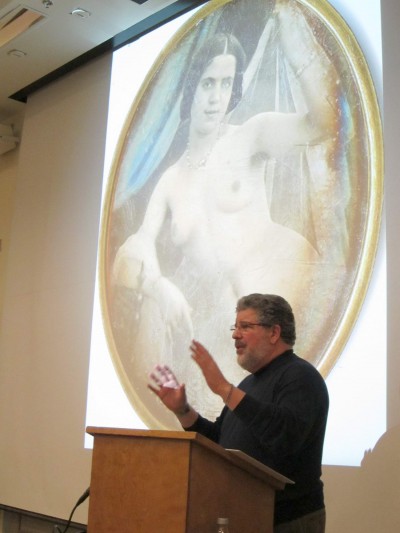 Yesterday I drove over to Bloomington, IN, to meet Herb Ascherman and hear him give a talk at the Kinsey Institute.  It was a great trip.  Herb's talk was supposed to have happened at the opening of the current show at the Kinsey Gallery, but these weekly blizzards forced him to postpone it when the snow closed the road as he was trying to get to Bloomington. 
The show was curated by Herb and Jeannette Palsa and is all photos done using 19th Century photographic processes.  Another photographer I've met, Charles West, had work included in the show.  Herb's lecture dealt with the history of erotic photography from the earliest days of the medium through the rest of the 19th Century.  It was well researched and insightful as he reviewed the desires and the marketplace that produced the earliest photographic eroticism and the efforts to suppress it.  Good background for the current struggles against censorship and government intrusions into the work of photographers.
I did this photo of Herb doing his lecture with my Canon S90.  That was shot at 1250 ISO. 
And, something completely different.  My friend, Stephen Haynes, included a link to this work in his blog today.  I almost didn't take the time to look through it.  I'm glad I changed my mind.  This is one of the finest uses of the medium of photography that I've seen in a long time.  There was a time when I aspired to do work along these lines.  Life intervened and I was not able to take my work in that direction in any meaningful way.  Darcy Padilla has certainly done a fantastic job in the finest traditions of documentary photography and in just being a feeling, caring human being.  Look through the whole project.  Look at her other work.  This is as good and as important as photography can get.  http://www.darcypadilla.com/thejulieproject/intro.html