Widening My View
February 2nd, 2011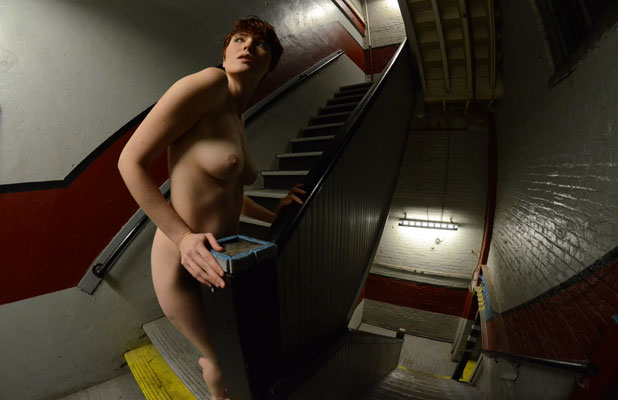 Here's Char Rose again wandering the halls in my building.  I recently added a new lens to my kit and I'm just starting to figure out what I can do with it.  It's a fisheye.  Fisheye lenses have very limited usefulness.  I've often said that each photographer has only 6-10 fisheye photos that he or she can take in their lifetime.  I've already used up a few of mine.  But I have something specific in mind where I'm sure a fisheye will offer just what I need to make some special photos.  So I decided to get one.
I actually already have one of those fisheye adapter lenses that screws onto the front of another lens.  But the quality from it sucks big time.  The price of the fisheye's available, new or used, that actually say Nikkor on them…well, they just simply cost too much to be worth it for the limited amount of use I know I'll get out of them.  But, when I saw this lens and read the reports on it, I decided it had hit the sweet spot for price and quality:  http://www.adorama.com/PRO835NK.html  So now I have one.  And I'm pleased with the results.  You can see my first attempt to use it above.  You'll probably have to put up with lots more less than spectacular fisheye photos here for a while as I learn to use this new tool.  Maybe I'll actually get a few good ones along the way.  You can see the fisheye effect in this photo.  It will also give you a hint (though you can't really tell in a small file like this on the internet) about the high ISO performance of my new D7000.  I shot that at 3200 ISO.
Another factor in getting me to part with the money for this lens is that I have a little program that, with just one mouse click, will straighten out the curved lines in these fisheye photos.  So, if that program does what I hope it will do, I'll not only be able to do fisheye photos with this lens, but it will also double as an 8mm wide angle lens from time to time.  I'd be trying it out now, but that program only lives on my studio computer and I'm at home because of the weather.
So, now I'll rant about the weather.  I guess this weird storm is affecting almost everybody in the eastern half of the U.S., so we can all commiserate about it.  Here in central Ohio it has been the weirdest weather pattern that I've ever seen around here.  Pretty much everything has been shut down for two days.  Yesterday we had rain, freezing rain and sleet.  There was about a half inch of ice on everything.  The temperature throughout yesterday was in the low 20s.  Then, overnight, the temperature rose to 40 in the middle of the night, with the rain continuing.  After about 6 a.m. the temperature started dropping again, and winds picked up to above 50 mph.  Of course, all the tree limbs and wires are now coated with a thick shroud of ice.  The wind is causing all kinds of havoc with downed trees and power lines.  And the temperature is supposed to reach single digits tonight.    WTF?  I put down about 100 pounds of ice melt stuff on my walks and my cousin's (up hill) driveway this afternoon.  Don't know if that's going to be enough. 
But, it seems that the storm is about past us.  I have plans to do some shooting at the studio tomorrow and expect to be able to get there.  This will pass…but it can't pass soon enough for me.  I've had enough and I'm sure we aren't done yet.  At least the damn groundhog didn't see his shadow this morning.