All New Except for the Old
January 29th, 2011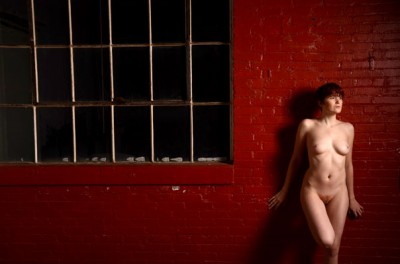 I finally got to do a shoot with my new Nikon D7000.  And I ended up doing that shoot with a "new" model, at least new to me.  Char Rose and I had been trying for a long time to set up a first "get acquainted" shoot, and finally managed to do that yesterday.  Based on this shoot I'm willing to predict that you will be seeing Char here often in the future.  We hit it off pretty well and have already scheduled another shoot.
This was really a learning time for me as I tried to get used to the new camera.  Several of the controls are in different places from their location on my D200, so I found myself frequently, for example, activating the menu when I wanted to view the photo I had just taken.  I also forgot what ISO I had set a couple times…it's a shame they decided not to show the ISO setting in the viewfinder, since it has become one of the basic exposure controls on a camera like this where there is no significant difference in file quality between ISO 100 and ISO 1600. 
But, give me a few more shoots where I stumble around and I'll gradually start to know where the controls are and be able to use them without having to stop and think.  It makes a big difference in a shoot if I know the camera controls without having to think about them…I can only think about one thing at a time and if it's how the camera works, then it isn't about what I'm trying to do with the content of the photo. 
Despite my fumbling with the camera a lot, I still managed to get  a few photos I'm happy with.  Chalk that up to an excellent model who has a lot of patience and a great sense of humor. 
But I have something else to rant about now.  Adobe.  I'm really very upset with them.  I use Adobe PhotoShop CS4.  That's just one generation back from the current version, CS5.  I find it hard to believe that Adobe is so disrespectful of their customers who pay serious bucks for their software that they are not supporting the next to current version of PhotoShop by adding new cameras to the RAW support.  CS4 cannot open the RAW files from the D7000.  There's a workaround by using the free download Adobe Camera RAW in the latest version to open the D7000 RAW files and then save them in Adobe's RAW format to get them into PhotoShop.  But it is a major pain in the ass to go through all that.
I use ACDSee as my photo management program.  I've been using it ever since I started doing my work with digital cameras back in the last century.  It's relatively inexpensive and does everything I need when it come to organizing and sorting my shoots.  And a quick update was all it took for ACDSee to be able to handle the D7000 RAW files.  Not so with PhotoShop.
I don't upgrade every time a software company comes out with a new version of their software.  I always skip at least one generation, just as I do with new digital cameras.  I think it is offensively arrogant for Adobe to stop supporting a PhotoShop version just one version back from the current one.  I has me upset enough to be thinking about other image editing options…although I have to admit that Adobe pretty much has a monopoly.  And I guess since they have the best software out there they have come to feel that they can abuse their customers and try to force them to keep buying upgrades every time they come out with a new one. 
Fortunately, I seldom shoot RAW files anyway.  I find that just shooting jpeg's gives me fine quality that produces prints I'm very happy with and that all RAW does is take up lots more storage space, require more and larger memory cards for the camera, and require a much larger workload on my part in post processing.  But I use RAW now and then when I know it will give me an advantage or where there are issues in the situation I'm shooting that are beyond my control.  So, it's not a big show-stopper to not be able to open RAW files in PhotoShop.  But it still pisses me off and greatly lowers my opinion of Adobe as a company.