Shadowland
January 19th, 2011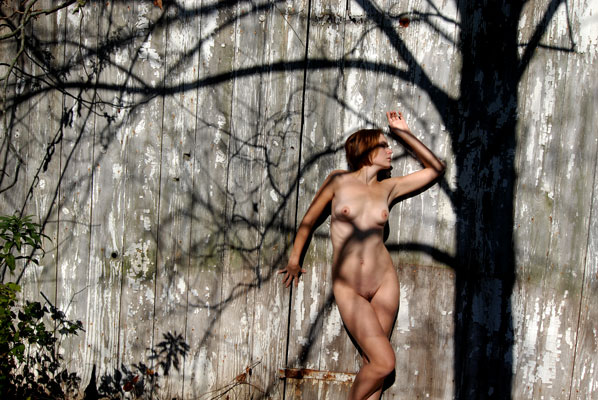 With the next storm of the century of the week due to arrive here tomorrow I thought a photo from a warmer time might be in order.  I shot this with Angie on a local farm last October.  I just liked the way the shadows played on the old barn siding and on Angie's smooth, curvy form. 
A lot has been happening to keep me from being here updating.  Not much involving photography, unfortunately.  My pain after my dental work continued and eventually required a return trip to the dentist where they ground down the sharp places on my temporary crowns that were digging into my tongue.  Got that done just in time for the drive down to Lexington for the opening of the show at the Lexington Art League. 
The show in Lexington was good.  I'm pleased to be a part of it, though I'll admit to being totally at a loss as to why my photo was chosen now that I've seen the whole show.  There were only a half dozen photos in the show of about 50 pieces of artwork.  None of the other photos were in any way similar to mine.  So, as usual, I have no idea what the judges were thinking or why they chose the photo they did.  Still pleased to be included in such a prestigious show, though.
On Saturday after I got back from Lexington my back started hurting.  It got steadily worse until I called my doctor and made an appointment to go in on Tuesday.  By then I could barely walk.  He gave me a shot and a bunch of serious drugs.  Today I'm about 80 percent better.  He suggested that driving to Bloomington, Indiana on Friday for the Kinsey Institute show that is opening that night might not be the best idea, but I'm going anyway.  I just have to be careful which drugs I take when because some of them put me to sleep.  If you've had back problems, you understand what this is like…if you haven't experienced it yourself, you have no idea. 
On Monday, with my back really killing me, I went to one of my regular eye doctor appointments.  At the morning appointment my eye doctor said the pressure in my left eye was higher than the right.  He had done laser surgery on the right eye last year and thought it was time to do the surgery on the left eye now.  He said he was doing the surgeries that afternoon and if I wanted to come back after lunch he could do it then.  So I went to lunch with some friends and went back.  After that in addition to the extreme back pain I also had my left eye feeling like it had been poked with a stick.  But after I got the good drugs for my back, they seemed to eliminate the eye pain too. 
Because of all of that I have not been able to do any shooting with the new D7000, but I hope to take care of that soon and have something newer to post here.  But first I'm looking forward to getting over to the Kinsey Institute to see the great show they are opening Friday night.  If you are going to be there please say hello.