Whirling Kelsey
January 12th, 2011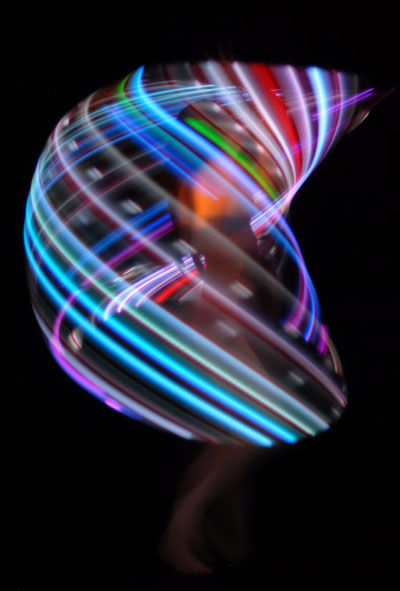 When Kelsey came by the studio last month she brought along one of her hula hoops.  She is a very accomplished hula hooper.  One of her hoops is a fire hoop, but she didn't have that one with her on this trip…but we plan to photograph it the next chance we get.  This hoop has colored LEDs on it.  So I turned off the lights, put the camera on a tripod and did some long exposures.  I like how they came out.  You'll probably see some more here soon.
There are good reasons that I haven't been posting much.  Like three hours in the dentist's chair on Monday, followed by an appointment with my insurance agent.  There's a day I'll never get back, but would never want to repeat either.  Then yesterday my best friend, Ken, came over for a visit.  And, because of the blizzard of the century of the week, my wife got to come home early from work, so we spent the afternoon together.  After that my daughter and grandson came over and we went out to dinner.  I'm still in pain from the dentist, but it seems to be gradually subsiding.  I'm hoping it will be gone by Friday when I'll drive down to Lexington for the opening reception of the Lexington Art League Nude show.  I hear it's quite a party with lots of great food, so I hope to be able to enjoy it without wincing every time I take a bite of food.
On a happier note, I picked up a Nikon D7000 at the local camera shop yesterday and have started playing with it and getting it set up for my needs.  I'm looking forward to shooting a dance concert in March with it and being able to shoot at 6400 ISO.  It will change the way I approach shooting a concert and allow me much more flexibility.  I'll probably bring out the 35-70 f/2.8 zoom lens that I don't use much anymore and see how it works with the new camera.  My D200 never liked that lens and would often not autofocus well with it, so I'm hoping that won't be a problem with the new camera. 
I don't buy every new model of a camera that comes on the market.  I've decided to skip a generation as a general rule in the future.  That's what I did with this camera.  I love my D200 and can still do fine work with it.  The D300 is a nice camera and it was tempting, but now I'm glad I waited since the D7000 is even better at the things that matter to me.  And the new camera is smaller and lighter too…a big plus when it goes in my backpack for a trek into the woods.
I hope to do some shooting with the new camera in the coming week, so I'll let you know how it goes and show the results soon.