On A Roll
December 29th, 2010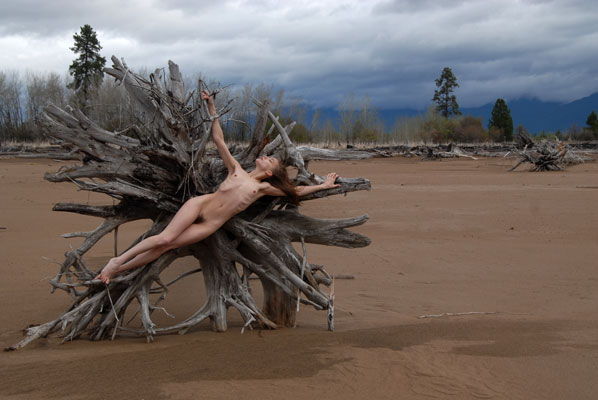 Of course, Brooke is really on an upturned tree root system, not a roll, but the photo itself seems to be on something of a roll.  I already told you that this photo was accepted into the highly respected and exclusive Lexington Art League Nude show, opening January 15.  Now I've been informed that it was also accepted into the somewhat less respectable Dirty Show in Detroit in February.  Two very different venues.  I guess that says something about the photo and the range of appeal it possesses. 
I plan to attend the Dirty Show on Saturday, February 12, so find me and say hello if you are going to be there that night. 
I'm pleased that this photo is getting all this attention.  First, simply because I love the photo.  It's exactly what I wanted it to be when I took it.  But, beyond that, it is a great example of the collaborative relationship I have with my models, especially the truly great models like Brooke.  Of course, it was sleeting  and very windy when we took this photo.  Brooke was suffering quite a bit doing this pose in those conditions.  But we saw the setting and Brooke wanted to see what she could do posing on those roots.  She worked at it for a while in those chilling conditions, trying to find the best way to pose and still be able to hang on.  I made a few suggestions along the way to try to get the pose I envisioned.  And, of course, Brooke pulled it off.  And I was able to put together the composition I wanted.  The awful weather conditions actually are a critical element of the photo.  It wouldn't have the power it has if it had been taken on a warm, sunny day. 
It's such a pleasure to work with fantastic models like Brooke (and make no mistake, Brooke is as good a model as there is anywhere) who understand how all these things work together and why it is important sometimes to work in bad weather.  Add to that intelligence both Brooke's great beauty and her amazing talent for posing and it should be no secret why she is my favorite model.  Just look at that photo if you need any more evidence.
Thank you Brooke.  You are the greatest.