Happy Christmas
December 24th, 2010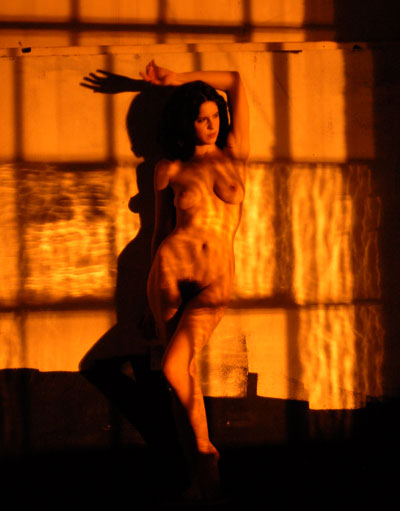 It's Christmas Eve and I have a few quiet moments before I start getting ready for the day's events, so I thought I'd post something.  This will be it until after Christmas.
Yesterday I did the drive down to Lexington, KY, to drop off my print for the Lexington Art League nude show that opens January 15.  I plan to attend the preview party on the evening of January 14, so, if you are in the Lexington area, please come to the party and say hello.
I made that drive in my damaged truck.  On Monday night, after we had gone to bed, I heard a crash on the street in front of my house.  I looked out the window in time to see a big old black Cadillac back away from my truck and drive off.  Turns out the woman driving was so drunk that she crashed into a van up the street and ended up in the hospital, so the police got her and it wasn't just a hit and run with no way to follow up.  My insurance is paying for the $4,000 repair bill.  I'll get my deductible back if they manage to collect anything from the driver.  At first I couldn't open the driver's door, but when I took it to a body shop for the estimate they were able to pry the door open and get it so I can at least get in and out on the driver's side.  Lots of wind noise, but I can drive it.  It goes to the shop next week and will be there a week for the repairs.  This is even more expensive than the damage from hitting a deer a couple years ago out in Montana.
But it is Christmas.  All my kids will be here tomorrow.  Two of the three will be spending the night here tonight.  My older daughter and her husband and my grandson will come over in the morning.  It's a good Christmas in these parts.
And I got a nice early Christmas present this week when Kelsey came by for a shoot while she is home from Seattle for the holidays.  That's her above in the evening street-light lighting in my studio.  It's always a great pleasure to work with Kelsey…a lovely person inside and out and a very talented model.  I'll have lots more to share from this shoot in the coming weeks. 
Until next time I wish you and yours all the best in this season and throughout the coming year.  Thanks for coming by and looking at my work and reading my thoughts.