Red On Black
October 25th, 2010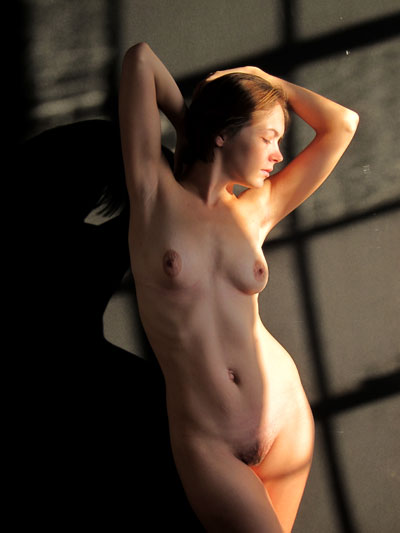 When I met Angie at the studio to head out to the farm for our shoot last week I saw the sunlight doing this on a piece of black foam core in the studio.  I really liked the effect of what the light was doing.  So I asked her to do a quick pose there for me.  I had already loaded my gear into the truck, so I just pulled out the Canon S90 that is always on my belt and shot it with that.  I'm pretty pleased with the result.
Right now I'm in West By God Virginia having a great time shooting with a great model in some of my favorite places.  I think West Virginia is one of the most amazing, beautiful places on this planet.  And I've visited here often, usually on my motorcycle, for more than 30 years.  It's great to have the chance to revisit favorite places with a model and do photos that have existed in my mind for years.  You'll be seeing some of the results here in a day or three.  Too busy shooting to spend much time editing right now.
And, to all those new visitors here who have come from reddit, welcome.  I hope you enjoy the visit and feel free to come back often to see what I'm up to.  To be honest, I'd never heard of reddit until I saw all the visitors coming from there tonight.  I had to ask my model what it is…and she doesn't really know.  So, I don't really know how or why this is happening, but I'm always pleased to have more people seeing my work…so, again, welcome.  Y'all come back now, hear.