Peyton and Shadow and Light
October 4th, 2010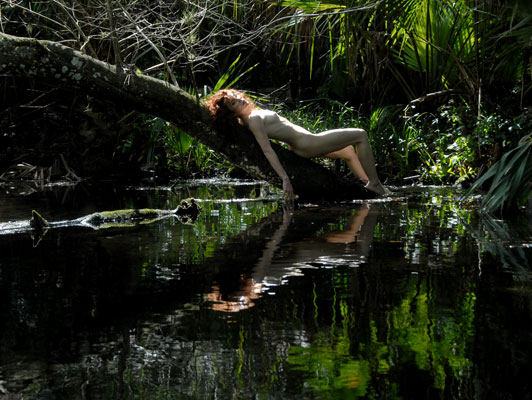 Here's something a little different of Peyton at Wekiwa Springs.  I like this one because I think it is a good example of the difference between what the camera sees and what our eyes see.  As I've said, I was struggling with working in bright sunlight.  The contrast range in this photo is beyond what the camera is able to record.  Our eyes see all this and compensate for the difference between the bright sun and the dark shadows and we see all the detail in all those places.  The camera can't capture all of that.  The photographer's job in this situation is to understand what the camera is going to do to the scene and work with that to make an effective photo. 
I'm pretty pleased with what I was able to do with this situation.  I let the shadows fall into black while trying to hold most of the highlights, although I compromised and let the highlights go just a bit off the end of the scale too.  That allowed me to get good separation between Peyton's lovely body and the brightly lit grass behind her.    Letting the shadows go black worked to highlight the colorful reflections and the brightly lit moss on the log in the water to the left. 
So, we get not what the swamp actually looked like, but an interpretation of the swamp that emphasizes some of the more beautiful elements of the scene and incorporates Peyton's figure and her red hair as a focal point to draw your eye into the composition. 
This is one of the photos included in my Wekiwa Springs calendar.  There's been an extension on one of the discount sales for those calendars.  Use the code FALLPHOTO at checkout before October 8 and you will get a 20 percent discount on any calendars you buy.  Visit my store to see previews of all of my 2011 calendars.