Swamp Kat
September 22nd, 2010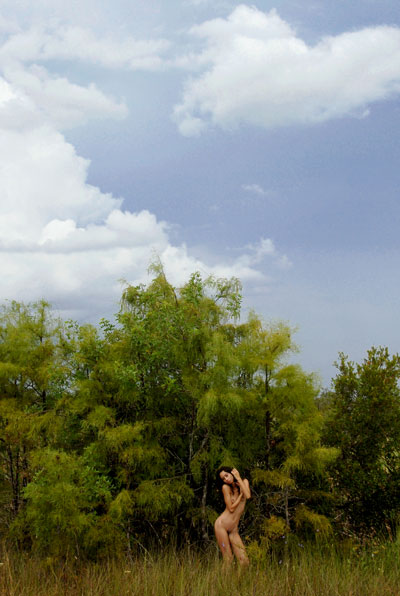 Last, and certainly not least, of my Florida models is Kat.  I'm really impressed with her.  We got some fine photos and we'll soon be doing more work together when she comes up this way for some shooting next month.  I predict many more excellent photos of Kat will be appearing here in the future.  She's beautiful and an amazing model.  And, of course, a really nice person since I only work with nice people.
This was the afternoon of the last day of shooting on this Florida trip.  The day started out sunny(of course) when we headed out from the Miami area into the Everglades.  But by the afternoon some clouds had started to move in.  Finally I was able to do a few photos without harsh direct sun. 
This is the Everglades.  There's water under that grass.  There were 14-foot 'gators laying at every pull-out along the road, just watching the traffic and waiting for someone to let a poodle out of their car.  This was my first time to visit the Everglades.  It was about what I expected.  Not exactly the sort of outdoor environment that I usually seek out for my photos, but with some interesting features and opportunities for composition.
This was very near the end of our shooting time.  Soon after this was taken the rain started.  Serious, toad strangling rain.  I was at the end of my trip to Florida, so the weather went back to the normal daily rainstorms.  So it goes. 
My cold is finally better today, after about two weeks of misery.  I'm convinced I caught the cold on the flights back home from Florida.  Maybe I can get back to normal life now for a bit.