Fayth Up A Tree
September 19th, 2010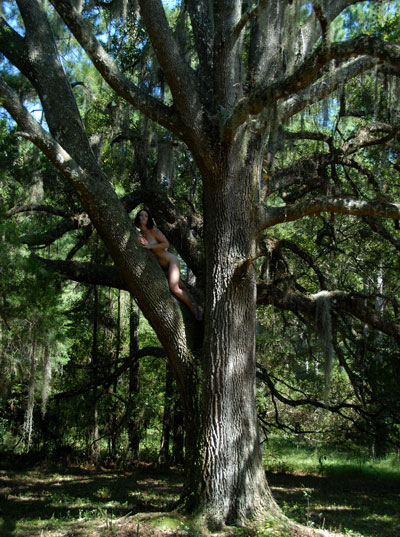 One of the things I love in Florida is the beautiful old live oak trees full of Spanish Moss.  Getting a good photo of one of those was one of my goals on this last trip.  I drive down I-75 and see hundreds of them that would be great, but they are right by the interstate, so that's not going to happen.  Other trees predominate in the swampy areas where we had been shooting.  But then we met up with Fayth.  She had a great location available and there we found this magnificent tree.  If the weather had been more cooperative I think I could have done a better photo, but, of course, the sun was out full force, so I was limited in what I could do. 
It was great to meet and work with Fayth on this trip.  Our shoot was short and constrained by a number of outside factors, but I'm looking forward to working with her more in the future when I get back to Florida.
Meanwhile, back home, I'm fighting a miserable, stubborn cold.  I thought it had started to go away, but it came back and I've not been able to do much more than sleep and sit around the house for the past week.  I spent one day shooting, but it was too soon and the cold was back full force the next day.  I'm hoping to be back to work on painting my house tomorrow or Tuesday at the latest…but I know if I go at it too soon I'll just make the cold last longer, so I'll wait and see how I feel in the morning.
There are more Florida photos to come.  There's one more new model from this trip to post.  And there are other photos from the shoot this past week coming…so lots of new stuff for the blog, coming soon.