Peyton
September 16th, 2010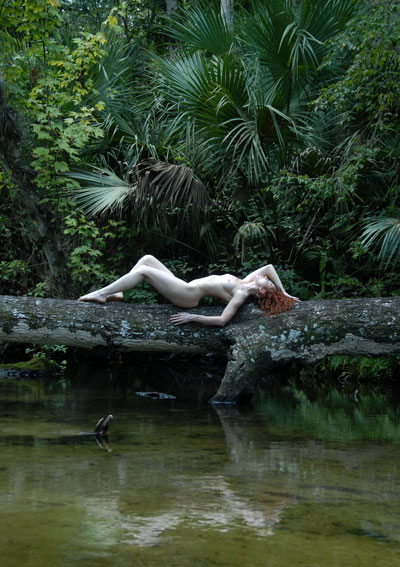 One of the great things about this latest Florida trip was that I got to work with some of my favorite models who I've worked with in the past as well as working for the first time with several wonderful models.  The first of those new (to me) models was Peyton Fontaine.  A beautiful, talented model and a nice person, of course…since I only work with nice people.  She really was a great asset on the canoe adventure at Wekiwa Springs, both with her modeling and with the help she gave me in directing the shots to get the best results.  She was full of excellent ideas and suggestions throughout the day of shooting.  I hope to get to work with her again in the future.  Of course, that's Peyton above lounging on that oh-so-comfortable log in the swamp.
Things are pretty busy at home right now.  I'm working on finishing up the painting of my house.  I'm working on the stuff that I can reach from a 16-foot ladder while I leave the tall stuff to my son-in-law and his friends who are helping.  We are making progress and hope to have the job finished in a couple weeks. 
And I'm also doing a little shooting.  And my luck with the sun is continuing.  This is going to become known as the year of the sun as far as my photo work is concerned.  It's almost getting a bit weird.  I had a shoot yesterday that had been scheduled for a while…set up before I left for Florida, in fact.  Tuesday was completely overcast all day with beautiful light.  Today it is raining and cloudy.  But yesterday when I drove 3 hours each way to shoot in a location a friend had suggested?  Bright hot sun all day, of course.  One of these days I'm actually going to have some soft, overcast light to work with when I have a model available…one of these days…the odds are it's bound to happen eventually. 
It almost seems like a evil plot as far as the weather is concerned.  I just noticed that one of the tires on my truck was a little low on air.  So I went to the garage and turned on the air compressor and went back inside while it pumped up.  There was some sun shining between the clouds…after a bit I went back out to air up the tire…and it immediately started raining on me in the driveway.  If I believed in the kind of God that controls the weather I'd think he had it in for me.
On a happier note, I'm looking for dancers to model for me.  I have a project which has some prospect of being published in a major magazine.  I need talented, trained dancers who are comfortable with nudity to do this work in my studio.  Ballet and modern training is good, although I'll be open to most styles of dance and also some martial arts.  Contact me if you are interested in being part of this project, or know someone who is.