Claudine
September 7th, 2010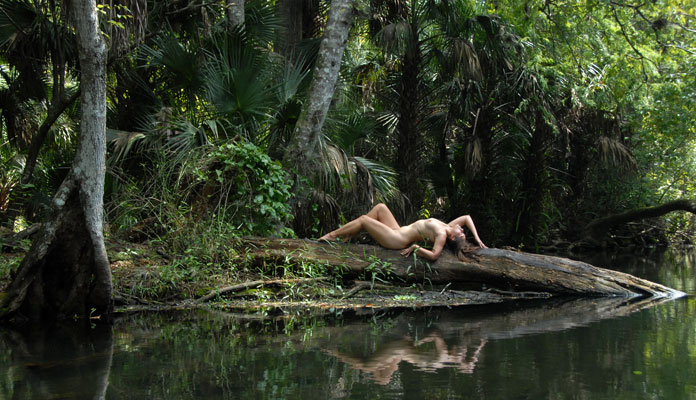 Despite the uncooperative weather this trip to Florida has been very productive and a lot of fun.  I owe that almost entirely to the wonderful models I've worked with down here.  So, over the next few posts I'm going to highlight each of the models for this trip and some of the work we did together.
First is Claudine.  I've worked with her before in the Chicago area where she lives, as you know if you follow this blog in any regular way.  She's a great model and a fine person.  When she heard about my Florida trip she decided it was a good excuse for her to get away from the windy city for a few days, so she got on a plane and showed up in Tampa.  She was the first model to arrive ready to work, and she was here for most of a week doing her usual fantastic job of posing.
In this photo she is balancing on a log at Wekiwa Springs.  She did a great job of posing in a difficult, uncomfortable situation.  But we did learn one thing that was a small surprise.  Claudine's skills as a crew member on racing sailboats did not translate into skill paddling a canoe.  But she still managed to get up and down the river without tipping the canoe over, so that's all that really matters.  So what if her canoe actually traveled about 3 times the distance of the river because of the zig zag path it took.  Maybe she thought she was tacking?
Thank you Claudine for yet another great shoot…and another addition to my collection of figure in nature photos.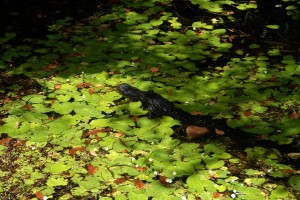 Claudine had left to return to Chicago before this next incident, so she is not one of the models implicated.  But I do have to mention, that sometimes the models were just not willing to do what was needed to make the photos I wanted to make.  Take this example in the photo to the right.  We were out slogging around in the Everglades yesterday when I saw these beautiful lilies in bloom.  All I needed was a beautiful naked model to lay down in the water surrounded by those lily pads and we would have had a great shot.  The light was even working fairly well, despite the sun being out.   But none of the models with me that day were willing to do the pose.  I just can't understand why they sometimes get reluctant.  (You may want to click to bring up a larger version of the photo and look to see if you can find a reason that they didn't want to pose there.)