Wayward Road Trip – Chicago
August 8th, 2010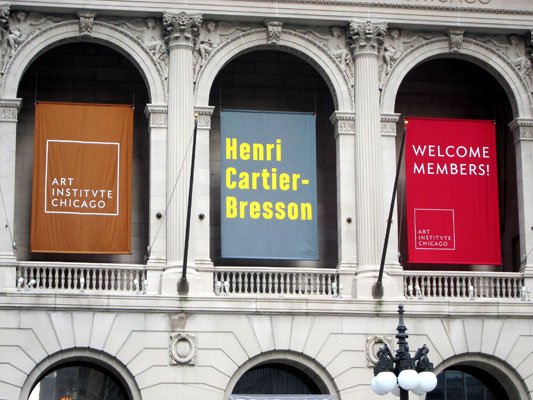 Many years ago when I bought my first house and was living in it alone I invited a couple of my photographer friends, Ken and Tim, to share the house with me.  They moved in and we came to call the place the "Home For Wayward Photographers."  Something like 30 years later we are still good friends and get together now and then for Wayward meetings.  When it was time for me to go up to Chicago to pick up my prints from my show at Gallery Provocateur and knowing that the "Hank Carter" show would be at the Art Institute…I invited Ken and Tim to join me for the trip.  So we made a Wayward Road Trip to Chicago.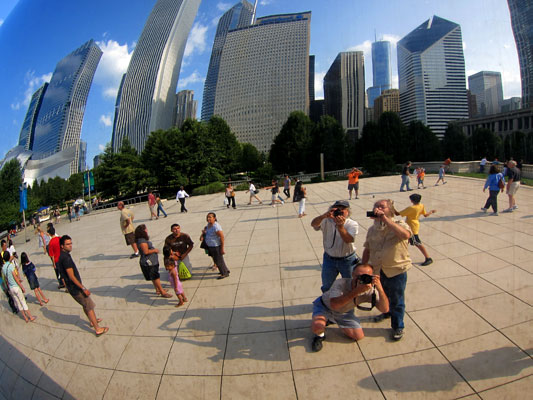 But before we went into the Art Institute we had to take Ken, who had never seen "The Bean" over to have that Chicago experience.  That's the three of us, front right, taking the mandatory Bean Photo.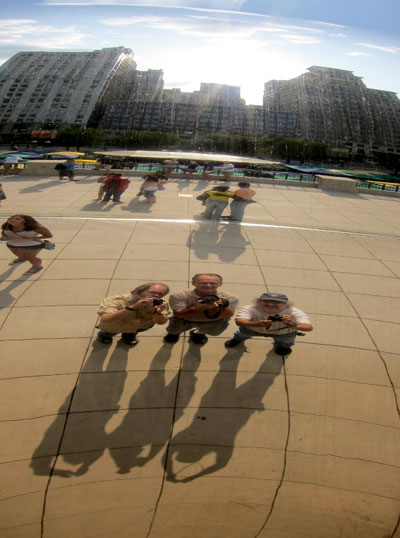 Sometimes hanging out around the Bean can make you very small.  But you can still cast a long shadow.
After the Bean we met lovely Chicago model Claudine and had dinner at Bennigans (or is that Hoolahans?) across the street from the Art Institute.   I've worked with Claudine several times now and hope to do so regularly in the future.  She's a great model.  She joined Tim and me when we went to the Art Institute to see the Karsh show a while back and jumped at the chance to join us for this show.  I think she actually enjoys listening to us do the photo geek speak when we look at the photos.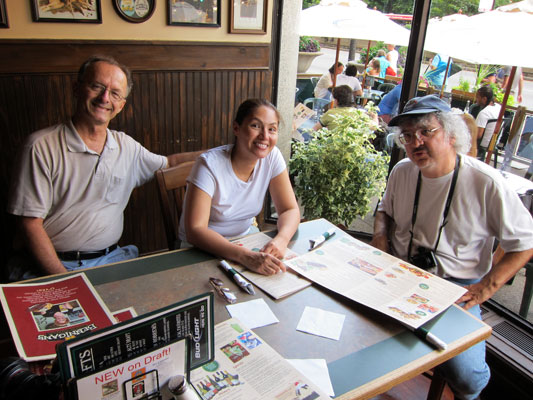 Photography was prohibited in the gallery where the Cartier-Bresson photos were displayed.  I find it sad when photography is restricted in shows of work that depended on the freedom to shoot photos.  But I know there are reasons that are often beyond the control of the museum presenting the show, and I suspect that might be the case at the Art Institute since they generally have a very liberal photo policy in their galleries.
Sorry, no naked chicks today.  But I've been shooting and I'll have some new things to share here soon.  If you have any way to get to Chicago to see the Henri Cartier-Bresson show, I highly recommend it.  It's a great show, lots of wonderful photos, some very familiar, some very fine work that I had not seen before.  The information about the printing of the photos is enlightening, especially for purists who argue that the photographer must do all the work from snapping the photo to hanging the print on the wall.  That wasn't the way Cartier-Bresson felt about it.  And judging from the difference between the early prints that he made himself and the later prints made by others, he was right in his decision that he was not a darkroom kind of guy.