The Tree Of Life
August 1st, 2010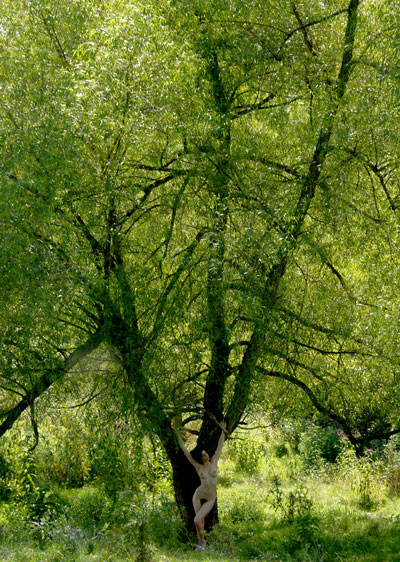 That's a photo of Kelsey on a friend's farm last week.  Once again the light was not cooperating with me, so I just determined to use the light that was there to make something.  This photo would not have been possible on the overcast day that I was wishing for.  Whatever light is there naturally presents its own opportunities.  The challenge is simply to be open to what is there.
This has been a season of loss and this morning a phone call told me that another loss had occurred.  Quite a few years ago Rob Steele opened Steelepointe Gallery just around the corner from my home.  When I saw his "Art" sign out in front of the building I got my wife and we went right over to see what was happening in our neighborhood.  Rob built a beautiful gallery and filled it with art, both from nationally known artists and from local artists in our area.  When I showed him my work, way back then, he immediately invited me to exhibit in the gallery.  My work was on the walls there and in shows that Rob put together in other locations from that time on, until last week. 
That was when I got a call from Rob's wife to tell me they were closing the gallery.  Rob had been fighting cancer for more than a year and it had reached the point where he did not have the energy and strength to keep going to the gallery, as he had nearly every day as he went through treatment.  So I went in last week and picked up my photos along with the work of two of my friends who also were showing their work in Rob's gallery.  It was a very sad chore.
Then early this morning the phone rang and it was Rob's wife telling me Rob had died in the night.  He is going to be very much missed.  Rob was a kind and gentle man, full of love for art and artists.  He was always ready to offer support and encouragement.  Rob wasn't exactly the typical gallery owner.  He was a strong man in excellent physical condition.  He had been special forces in Vietnam.  It was hard watching him get weaker and weaker as the cancer attacked his body.  The last time I saw him, only a couple weeks before he died, he was walking very slowly with a cane. 
 His gallery was his life's dream and he got to create it before he had to leave us.  The closing of Steelepointe Gallery is a loss to all the artists in our area and a loss to my neighborhood.  It will be missed.  But I am already missing my friend who was always right around the corner, happy for me to stop by to chat or show him my latest work.  But now Rob is free of the pain that was his constant companion for many months.  And the world is a little poorer for his passing.