Flower Child
July 28th, 2010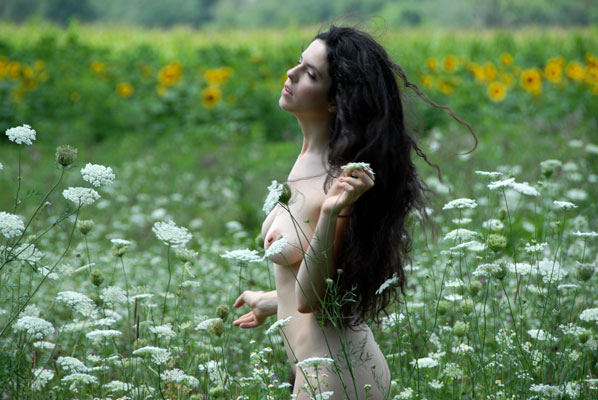 I've been enjoying shooting with Kelsey again.  She is such a wonderful model that I always want to shoot with her, no matter what else is going on.  Unfortunately, what else that has been going on every time we've shot so far this summer is bright, hot sunlight.  Not the ideal light for what I'm trying to do.  But I do enjoy the challenge of working with light that isn't easy, even though it does limit what I'm able to do. 
I know I could add lots of artificial methods to control the light and bend it to my will.  But I'm not really interested in doing that.  I know how.  I have the tools.  I've used them in the past.  But the results are not anything that interests me.  I'm interested in what the light does naturally, not what I'm able to force it to do.  I don't want to force the light to conform to a preconceived idea of what "good" light looks like.  Rather I like to try to find good photos that work with what the light presents me with. 
That's not really easy.  It would be far easier to just slap on a flash unit and do flash fill, or bring out the reflectors and scrims and move the light around and block it in places.  But I find photos done that way uninteresting.  And I also find that "bad" light can sometimes offer surprisingly good photos if you work with it.  So, that's what I try to do.  I don't always succeed, but when I do I'm much happier with the photos than I would be if I went the other route.
Of course, I love it when the light is being cooperative and there's a nice cloud cover to soften the sun.  Every day last week was like that, except the day Kelsey shot with me.  So it goes. 
Kelsey is such a nature girl that I thought this photo was a good representation of who she is, so I like it even though it's more of a glamour portrait than the kind of thing I usually am trying to shoot.  But I don't feel any need to keep my work inside any little box that other people want to put it in…so here you have something a little different just because I like it.