Brooke On The Rocks And A Bird In The Bush
June 10th, 2010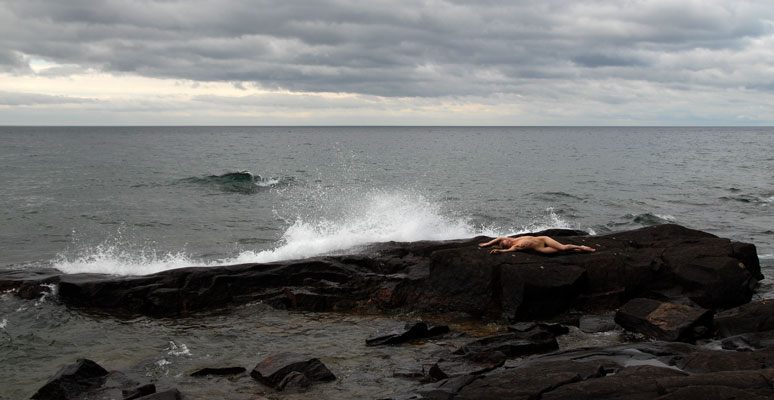 The weather was good to us yesterday, i.e., cloudy pretty much all day, so we got a lot of work done.  We spent some time out on the shore, as you can see above, and we went to Illgen Falls and also did a short drive back up the Gunflint Trail to take a hike in the woods. 
But, despite the favorable light, I didn't really get what I was after at the falls or on the hike.  When we got to the falls everything was perfect, there was no one around and it looked like we would have a good shoot.  But, as we tried to get down to the water below the falls we quickly found that the rocks all the way down were wet and very slippery and there was what we call in rock climbing, "lots of exposure."  In other words, one slip on those slippery rocks and you were going all the way down the cliff into the river below.  Neither Brooke nor I thought it was worth the risk.  So we changed direction and found a more safe place to shoot above the waterfall.  It's a good shot that may show up here soon.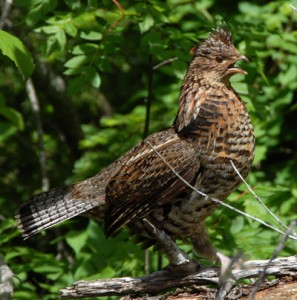 The hike along the Gunflint trail was slightly eventful in that we encountered what I think was a momma pheasant who had a nest full of chicks right at the edge of the trail.  She was pretty upset that we were there and made it quite clear that she was not planning to let us pass on the trail.  We didn't get close enough to see the chicks…I think momma might have plucked our eyes out if we had tried…but eventually we managed to get past her and go on down the trail.  That's her giving us the what for.  Unfortunately I had my camera in the backpack when she tried to attack us with her tail feathers spread, coming right down the trail at us.  It's been a long time since I've actually seen a pheasant in the wild and I don't have any guide books with me, so if I'm wrong about what kind of bird this is, please let me know.  (EDIT: Miles says the bird is a grouse.  I believe he may be correct…any other votes?)
I saw a couple shots along the way that we were able to get, but not the one I was looking for.  We may try again today.
But the sun is not cooperating today.  It's a bright, sunny, beautiful day.  It's even fairly warm for this location.  But the light is not giving us what we want, at least so far.  There seems to be some possibility that clouds will move in this afternoon, so we are waiting to see.  But we've had so much success already that it doesn't really matter.
Tomorrow morning we will be up early.  I'll return Brooke to Minneapolis and hope to have lunch with my friend, Stephen, there before I start the long drive back to Ohio.  Don't know if I'll make it all the way tomorrow, or if I'll stop along the way and spend the night.  I'll just see how that goes.