New 2016 Calendars Available
October 25th, 2015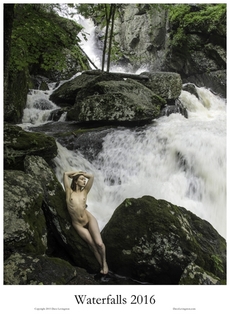 I've published a couple new calendars for 2016. They are available in my store on Lulu.com.
The "Figure In Nature" calendar has many of my best photos from over the years. The "Waterfalls" calendar, as you might guess, is all nudes at waterfalls. I seem to shoot too many waterfall photos, so I thought I'd just admit it and put a bunch of them in a calendar.
You can preview the calendars…and, I hope, buy them…at my store. I've also added the new calendars, with links, to the column at the right.
Enjoy.
And I have a deal for you. If you order before 11:59 tomorrow, October 26, you can get 30 percent off your order by using the code: OCTFLASH30