One Last Time
March 25th, 2012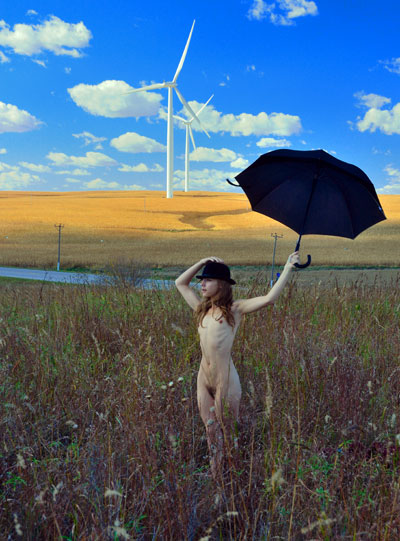 Well, the last time for this trip, anyway.  I expect that Brooke and I will be working together many times in the future.  At least I hope so.  After the stop in Denver where Brooke modeled for wet plate photos by Mark Sink and Kristen Hatgi, we headed for home…well, for Brooke's home in Minnesota anyway.  We were like a horse headed toward the barn after being on the road for three weeks and weren't planning any photo stops, just making time down the highway.
But as we were driving through Iowa I noticed the nice clouds in the sky.  They are the kind of clouds that I use for the series of photos I call my "Magritte Skies" photos.  Then I saw some of the new white windmills that are popping up around the country.  I asked Brooke if she minded a quick stop for one last photo.  As usual, she agreed.
As luck would have it, the spot I found to do this photo happens to be the location of the James Gang's first train robbery, near Adair, Iowa.  And, yes, I do carry derby hats and an umbrella around with me for those times when I spot a good sky for another of these photos.
Thanks, Brooke, for a beautiful ending to a great trip.