Oh Deer!
September 25th, 2011
I'm on my trip out west.  Things have not been going all that well.  I've been reminded of a couple old sayings that I often heard when I worked for the Air Force:
"No plan survives first contact with the enemy."
and
"Flexibility is the key to air power."
I started out Thursday by driving to Minneapolis to meet up with Brooke and Kat.  Well, that was the plan, anyway.  Everything was going along fine until the alternator in my truck failed in rural Wisconsin.  But it worked out.  Flexibility and luck were with me.  I happened to pull off the interstate at an exit where there was an excellent mechanic just a half mile from the exit.  He was about to close up for the day when I pulled in.  He stayed late and located an alternator that could be delivered in the morning.  I found a motel of sorts attached to the back of a gas station nearby and spent the night.  I arranged for my friend Stephen in Minneapolis to pick up Kat at the airport the next morning.  The next morning the biggest delay was just waiting for the new alternator to arrive.  Soon it was installed and all was well with the truck.  Here's the truck parked in front of my mechanic/savior's shop Craig's Auto Repair Shop, aka the C.A.R. Shop.  I'd tell you his full name and address, but there's a little problem keeping me from being able to do that right at this moment: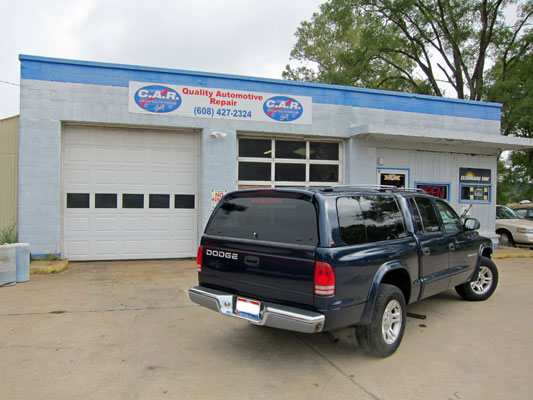 I arrived in Minneapolis, had lunch with Kat and Stephen as we had planned, then went to dinner with Brooke and her boyfriend, Matt.  The next morning we were all off on our trip.  The first day's drive was long and uneventful.  It was Kat's first trip out west, so the views of the plains were entertaining for her.
We spent the night in a small town in Nebraska.  The plan was to get up before dawn and make a short drive to Carhenge to do photos there at sun rise.  But a deer in the road had other ideas for our day.  Yes, for the second time on one of my trips I hit a deer with my truck.  The last time, on a trip to Glacier National Park, I was able to finish the trip without making any repairs, although there was quite a bit of work required after I got home.  Not so this time.  Since we were out in the middle of nowhere and the truck was running fine, or seemed to be, I decided to drive on to Alliance.  But after a few miles the engine overheated.  The deer had put a hole in the radiator.  Not something we could avoid taking care of immediately, obviously.  So, a call to AAA…great folks, great service…they found a towing place and repair shop in Alliance.  About an hour later Wayne loaded the truck onto his car hauler and drove us to a motel in Alliance.  That was this morning.  He hopes to find a radiator and replace my busted one and have us on the road again tomorrow sometime.  That's why I can't tell you the address of the Wisconsin car shop…that's in the glovebox of the truck off at the repair shop.
Here's what the truck looked like after this close encounter of the deer kind.  It doesn't look all that bad from a distance, but if you look close through the missing part of the grill you can see some of the damage to the radiator: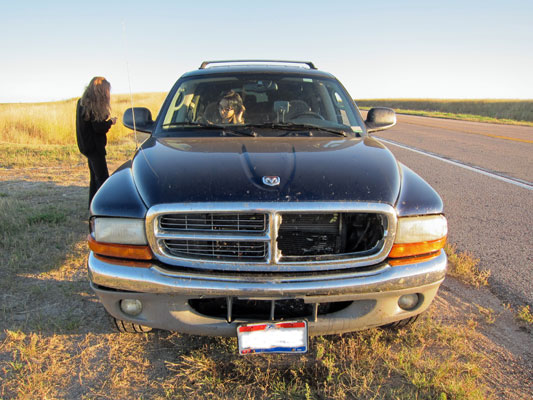 So we are just passing the time in Alliance…five miles from Carhenge, but no way to get there to take photos.  We considered walking, but decided against it.  Whenever the truck is fixed we'll just stop by and do some photos on our way out of town.  This delay may cause us to alter a few plans for the next couple days of the trip, but we should be back on schedule after that…unless something else happens.  My new saying:  "The key to a successful photo trip is flexibility."
Meanwhile I saw this while walking around Alliance.  I thought it made a moderatly interesting photo: