Cool Water
July 20th, 2011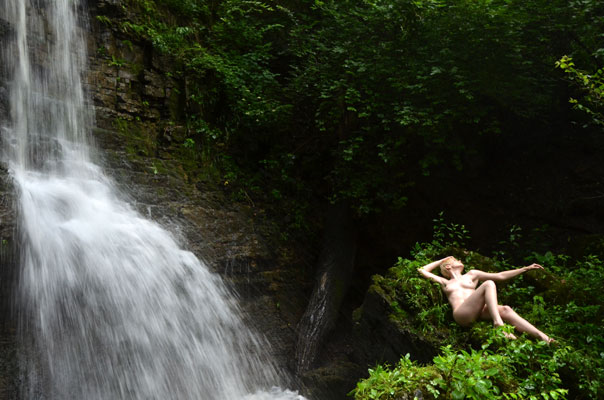 Boy that water splashing off the waterfall looks good.  She was getting wet while we were shooting this one.  I wouldn't mind lying there where Char Rose is lying, except that there would be a long hot hike and some climbing and scrambling over rocks required to get there.  Like most of the middle of the US, we are having a heat wave.  A really nasty heat wave.  I've decided to treat it the same way I would a major blizzard in the winter:  Just stay inside until it is over.  I'm so happy we have air conditioning.
My son-in-law had a large air conditioning unit that he wasn't using, so I borrowed it and installed it at the studio.  Now it is significantly cooler inside the studio than outside.  Once this heat wave passes I suspect that we will be able to maintain a normal room temperature in the studio.  For now it is at least a lot cooler.  So I just need to set up some studio shooting to pass the time until the weather gets better.  The forecast has this hellacious weather extending out for the coming week, so I don't know when I'll get back to working outdoors.  Not until it cools down to a more reasonable temperature.
Char did a great job working around that waterfall, getting into difficult spots and doing perfect poses.  Still more from this shoot to come.