Happy July 4
July 3rd, 2011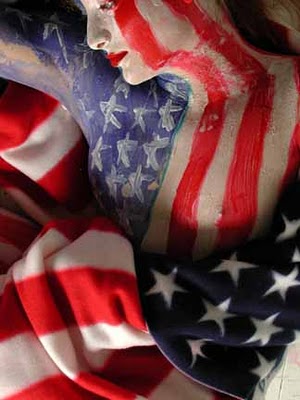 It's the holiday weekend when we in the US celebrate the beginning of our country, the greatest, most successful experiment in government in the history of the world.  Our country is certainly not without flaws, yet I must maintain that it is, nevertheless, the best country with the best form of government on the planet today.  I'm proud to be an American.  If this country isn't wonderful, why do people from all over the world want so desperately to come here?
But, that doesn't mean that we don't need to work on improving our flaws.  And it doesn't mean that we couldn't lose our freedom and democracy to the forces that are always present trying to destroy any system that allows the people to influence and control the direction of the country.  Those forces are stronger today than at any time in my life.  I fear for the future of America.  But I'm always hopeful.  This country is filled with good people.  But there are powerful people who want to control the country and the people and who will use any means to reach their ends.  This is nothing new and there is little chance that it will change in the future.  We must simply remain vigilant and challenge the lies that are being presented as truths these days.
I believe Lincoln was right.  "You can fool some of the people all of the time and you can fool all of the people some of the time.  But you can't fool all of the people all of the time."  Don't get fooled.
I'm away from home for the holiday, getting together with in-laws in Vermont.  This evening we will go to a big party thrown by a relative who is a big deal in Republican politics up this way.  In past years the governor would attend this party.  That won't be happening this year since the current governor is a Democrat.  I do my best to avoid talking politics at this event, but can't resist an occasional barb or pointed joke…I'm not a member of any political party, never have been, but I am thoroughly disgusted by the actions of the Republicans in recent months.  I hope it backfires on them as it should.  Who do they think they are fooling?
OK, enough of that.  That's an old photo up above.  I shot it a long time ago.  Almost 10 years ago.  It was my reaction to 9/11.  I saw lots of really bad flag photos after that attack and decided I wanted to do a photo that captured how I felt and how I thought the country felt at that time.  I think I succeeded.  I hadn't posted anything special for this holiday for several years, so I thought it was about time. 
I'll get back to posting recent stuff with the next post.  Hope you have a happy 4th, those of you who are my countrymen and countrywomen.