More Char…and a Movie Rant
April 6th, 2011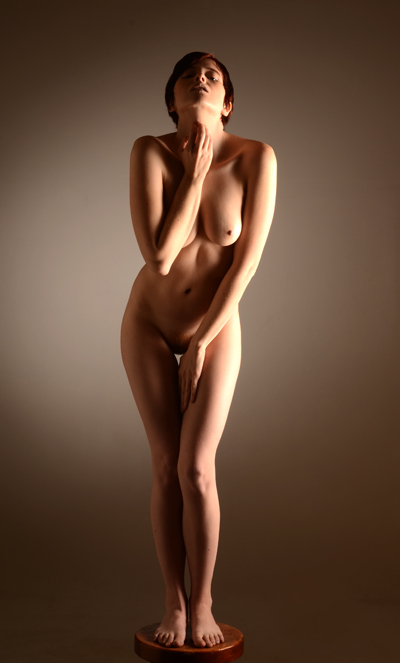 Wow, there must be a lot of Char Rose fans out there.  I don't follow all that closely how many people visit my blog, but I couldn't help noticing that visitors almost doubled after I posted that last photo of Char.  Since I'm not really saying anything of note here, it has to be Char that is drawing all the attention.  No wonder…she is certainly a beautiful woman.  So, I figured I'd pander to the crowd and offer up another photo from that shoot.  Enjoy.
But, I'm also going to take this opportunity to write a rant that has been building up for some time:
This is to all you photographers out there who now own a digital slr camera that has video capability:  
The fact that your camera can shoot video does not make you a filmmaker.  Really.  Please.  Stop. 
I started out in TV.  I've done TV news, both behind and in front of the camera.  I've made 16mm sound movies back in the old days when editing was done with a film splicer and a bunch of strips of movie film stuck to some masking tape above the light table.  Long ago I decided that I prefered doing still photography and that is what I do by choice.  My D7000 has video capability that I doubt I will ever use.
But, for those of you who are making "films" with your digital slrs, I have a few words of advice.  Film and still photography are different.  They are different media and they require different skills.  You can't make a good movie by pointing your camera at a still subject and having it move.  There's just a bit more to it than that.  And just because you like to go to the movies doesn't mean you know how to make a movie.
There are skills to be learned.  There are conventions that must be understood before you are ready to violate them.  Study is important and so is shooting.  So go ahead and shoot lots of bad movies with your new camera.  But for the love of God, stop posting them on the internet and proclaiming them as the greatest films ever made.  Please.  They are shit.  Total shit.  You need to shoot this crap to learn the craft, but please stop subjecting us to them.  You really should be ashamed.  Don't show this crap to anyone.  Especially don't put it on the internet where it will live forever as testimony of how bad you were.  You might get better and then you will really be sorry you ever posted this crap.
So, please, do some reading about the craft of filmmaking.  Practice and learn some skills.  Make a bunch of bad movies and throw them away.  Then, maybe…just maybe, you'll have gotten good enough to work on a movie being made by someone else who actually knows what they are doing.  And maybe then you'll be where you need to be to make your first bad movie that is actually good enough to show other people. 
But until then, please keep your shitty movies to yourself.  Please.