Playing with the Fisheye
February 11th, 2011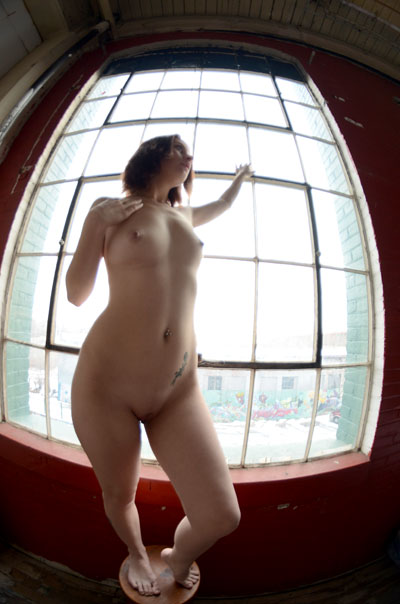 It's off to the Dirty Show tomorrow, but I've had time this week to do a quick shoot with Angele at the studio.  As I've mentioned here before, I have a new lens, an 8mm fisheye.  I have some specific things I want to use this lens for, but before I get to those I need to learn to use this new tool.  So for now it is coming out during every shoot I do so I can learn what it does, how it behaves in different settings, and how I can use it to get the photos I want.  I also have a nice little piece of software that straightens out the fisheye effect and in essence converts this lens into an ultrawideangle…as I'm learning, almost an instant panorama lens.  So I'm starting to play with that software too, so I can learn how it works and understand how to use it to get what I want.
So, here's a photo of Angele shot with the fisheye.  I put her in front of that window for several reasons.  I wanted to see how much flair I'd get with this lens when used with pretty extreme backlighting.  I'm very pleased with what I find here on that score.  This is a pretty damn good lens, optically, for the price.  The other main reason was to see what it would do with all those straight lines from the window panes and then to see what the software did with it all when I did the conversion to remove the fisheye effect.
Here's what happened to the photo when I ran the software:

Pretty extreme and pretty interesting.  I'm not real pleased with what is happening to her feet here, but that's a point of learning to work with in the future.  But I'm very interested in the "instant panorama" sort of effect that is produced.  In the right setting that could be very useful.  With a little cropping this could work as an ultra-wide shot.  And, wow, those lines are nice and straight.  I may try later running it back through the same program to use another effect that it offers, to remove the lens tilt effect that is seen here and in any photo where you tip the camera up to include something like the top of a building.  Lots of possibilities here.  The software, in case you are wondering, is PTLens.  It's a download that is very reasonably priced.  It works as a stand alone program and also as a filter in PhotoShop.  And the correction on this photo was a simple one-click operation.  There are controls to modify the extent of the transformation, but I just left it at the default settings for this trial.
I'm impressed.  I'll be playing with both the lens and the software for quite a while, so expect to see more about both of them here.
And I hope to see some of you at the Dirty Show tomorrow night.