Kat by the window
January 25th, 2011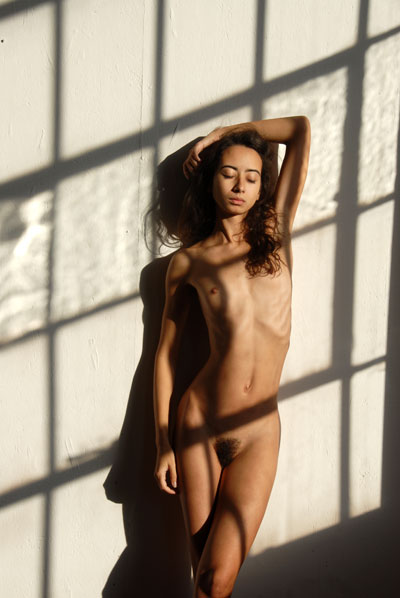 Here's another photo of Kat from her visit to Ohio.  I love playing around with the window light in my studio at different times of day and with different cloud cover.  And it always helps to have a beautiful nude model for the light to fall across.
My back is mostly better, though still not completely back to normal.  I go back to the doctor on Friday to review how things are going.  I'm thinking I may not have to do physical therapy, based on how I feel now.   One plus from this experience is that the 800 strength Ibuprofen that I've been taking for the pain when I don't want the more heavy-duty drugs to knock me out has also done a much better job of controlling the arthritis pain in my hands than the other heavy-duty drug that I've been taking for that.  So I'll be talking to the doctor about switching to Ibuprofen for the arthritis. 
OK…I'm sure that's more than you wanted to know about my health.  Sorry.
I spent a fair amount of time yesterday working on my web site…specifically, trying to fix the problems with what was going on in the "Fine Art Nude" section of my portfolio there.  I think I have it pretty much fixed now, and I added a bunch more photos while I was at it.  So, if you are so inclined, take a look at that gallery and see what you think.  Other sections of the site still need work and it's looking like some of it will have to be done by my webmaster, since there were several things I tried to do that I couldn't make happen.  The "Dance" and the "Nature and Landscape" galleries need some work, but they are ok for now.  The text parts of the site really just have place holder text right now…I really need to completely re-do the "About" and the "Statement" pages.  Maybe next month.
I've also been busy with upcoming shows.  I have the print for the Dirty Show framed and ready to go.  I'm working on the selection of loose prints that I'll take up for the Dirty Show Store.  I think I'm going to offer those prints with a major discount this time, so if you think you'd like to own some of my photos and will be at the Dirty Show, this will be a chance to get a great deal.  If there's a particular photo you are interested in owning, let me know by using the contact page on this site.  I can make sure it makes it to store, or we can work out a sale price if you won't be able to attend in Detroit next month.
I still have not been able to set up a shoot to try my new D7000 out on a nude model, but there are shoots coming up in the next couple weeks, so I'll soon have some photos shot with the new camera to post.