Day Two
November 14th, 2010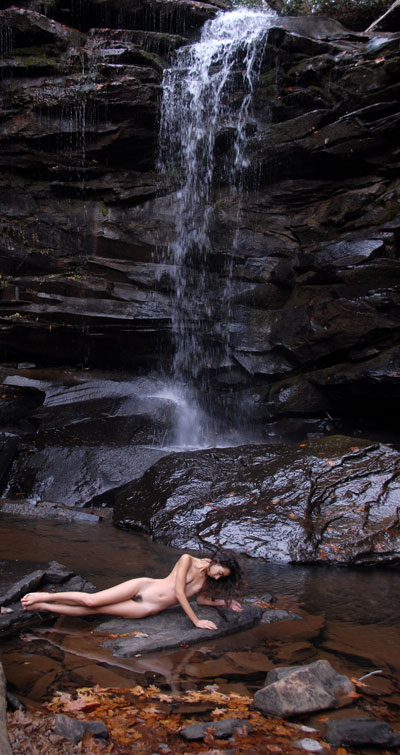 I haven't posted for a few days because the weather here in Ohio has just been too wonderful to spend much time inside working on photos.  It's been in the 70s which is almost unheard of for mid-November.  Thanks to this great bit of weather the house is finally completely painted and most of the storm windows are re-installed.  And, in a bit of a nod to the inevitable, the snow blower is repaired and ready to go when the weather gets back to normal.
All the West Virginia photos I've posted so far were taken on our first day of shooting there.  This one of Kat is from the second day.  We took a bit of a drive to get to some really beautiful waterfalls where I had photographed before.  There are three waterfalls, one above the other, with a pretty steep trail.  There was one other car in the parking lot when we arrived.  We soon found those folks, a couple obviously not in great physical condition, at the first waterfall.  That first waterfall is the least interesting of the three and we didn't really try to take any photos there.  The couple asked about the trail on down and I was honest with them that there was a lot of steep climbing involved.  They immediately decided that they were not interested in doing that kind of hiking and headed back to their car.  That was the only company we had while we were on the trail.
Kat and I continued hiking down the trail.  When we reached the second waterfall, which is a good setting, but with wooden walk ways and high railings making good compositions including Kat impossible from the approved trail.  But we found the trail barricaded and signs proclaiming that the trail was closed beyond that point.  The best waterfall is the third one and we weren't going to be able to go to it.  We could have climbed the barricade and gone on, but the trail looked unsafe, and there was something about a $5000 fine, so we elected not to do that.
Instead we found a place to get over the railing and down to the second waterfall so we could work out a good composition.  The climbing was a little tricky, but not all that awful.  Not exactly a "walk in the park" though.  More like a scramble over scree on the way to a rock climbing location.  But we made it down and back without incident and this photo was the result.  I think it was worth the effort.  Of course, now I'm going to have to make another trip down there after they repair the trail so I can shoot again at the third waterfall.  (Pay attention, Brooke. ;-))
It was right after we did this photo, on the hike back up that steep trail, that I stepped in a hole covered by leaves and twisted my ankle.  After all that scrambling over wet boulders to get down to the spot to take this photo I managed to injure myself on a flat rock on the trail.  So it goes.  But the injury wasn't bad enough to interfere with the rest of the trip.  My ankle is still sore as I type this, though.
And now for your regularly scheduled reminders:
Tomorrow is the last day to use discount code EARLYBIRD to get 30 percent off of an order of my 2011 calendars.  So if you are planning to buy one, now is the time.   You can buy my calendars here.  They make great gifts and the quality is high enough that you can keep them after the year is over and even frame the individual photos if you want.  The price will never be better.
And don't forget to go to Blurb and order your copy of  f-eleven, volume 3.  You can still use this discount code: PROMO to get 20 percent off your entire order.  That discount is good until November 26.  Another fine gift idea.