Leaf Peeper
November 8th, 2010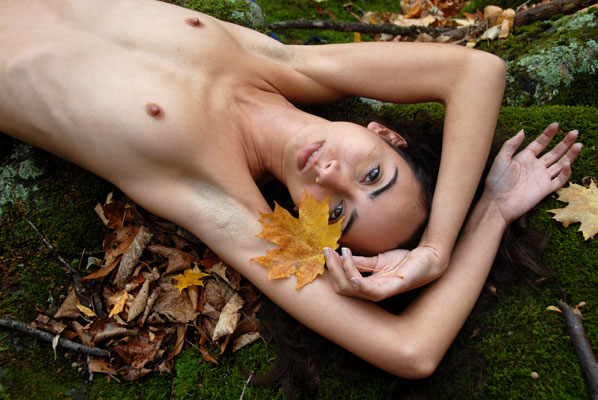 Kat seemed to really enjoy the fall leaves when we were in West Virginia.  I guess she doesn't see much of anything like that down in Miami.  Of course she doesn't see much snow down there either, but she really didn't seem to enjoy that experience all that much.  But I'll admit that I'm not a huge fan of snow either.  And October is my favorite month of the year because I love the fall colors and the beautiful weather that we usually have that time of year.  But it's past now for this year…and I need to get the snow blower out and ready to go…sigh.
This photo is still from our first day of shooting.  This one was taken on Spruce Knob, the highest mountain in West Virginia.  It had been many years since I rode my motorcycle up the gravel road to the top of Spruce Knob.  I swore I'd never do that again on a motorcycle.  It's a very narrow, very twisty road…not fun on a bike when you have to deal with gravel.  And I remember at the top there was a great view over the short twisted pine trees at the top.  Well, it has been a long time…and things have changed.  First, the road is blacktopped all the way up to the top…would probably be quite a bit of fun on the bike now.  But when we got to the top I found that all those scrubby 5-foot-tall pine trees are now more than 30 feet high and not scrubby at all.  And because of that there is really no view to be seen from the top…the trees block the view except in a few rocky spots…and they are so tall they even block the view from the observation tower at the top. 
So I didn't get the photo of Kat on those twisted little pine trees that I had in mind when I started up the mountain.  Guess I'll have to find another spot for those photos.  But we still found plenty of good places to shoot.
And here are your reminders about books and calendars.
Blurb has a discount sale running right now good for 20 percent off of your order total.  Use these codes at checkout to get the discount:
USD $ coupon code: PROMO
GBP £ coupon code: PROMO1
EUR € coupon code: PROMO2
CAD $ coupon code: PROMO3
AUD $ coupon code: PROMO4
This offer is good until November 26.
F-eleven volume 3 is available here.
And you have until November 15 to save on my calendars at Lulu.  Just enter the code:  EARLYBIRD  when you place your order and you'll get 30 percent off of all the calendars you order.  Go here to see and buy the calendars.