Out And About With Dave Rudin
August 19th, 2010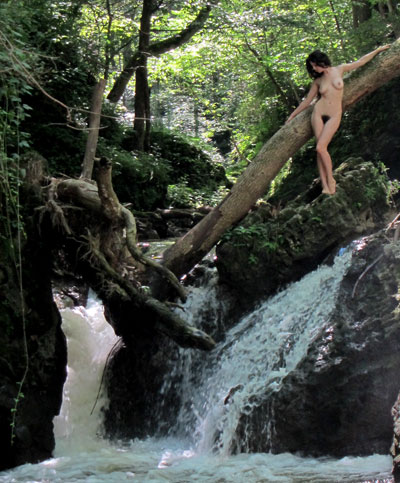 As I mentioned in my last post, Dave Rudin has been visiting me since Sunday.  He has been keeping me pretty busy, which is why you haven't seen any posts this week.  Dave has been doing a lot of shooting.  He brought Kelsey Dylan with him after she had spent a week in New York City working with a bunch of really fine photographers there…including Ralph Gibson, someone whose work I've admired since I first saw it back when I was in photo school many eons ago.
Of course, I did several shoots with Kelsey while she was around.  And on one day that I took Dave R out to one of my favorite local locations I shot the photo at the top of this post.  I wasn't planning to shoot that day, intending to only act as a guide for Dave, but when Kelsey and I made our way upstream to this waterfall, but Dave wasn't able to make the admittedly tricky climb over slick rocks with all his medium format gear…well, I just had to take a shot of this since Dave wasn't going to get it.  All I had was my little Canon S90, but it did a pretty good job.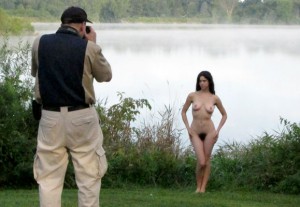 Before we went to that waterfall I took Dave and Kelsey to a little lake near my home that can often provide a good setting, particularly at dawn, which is when we were there.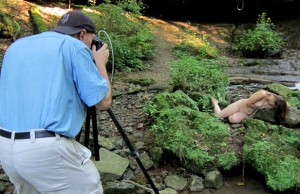 Then today Dave celebrated his 15th anniversary as a photographer of the nude by doing a shoot with Jypsie Nahmana.  And, below you can see the proof I captured during that shoot.  Looks to me like Dave just uses that big old film camera for a prop and then pulls out his little digital point and shoot (an S90, of course) when it's time for the real photo.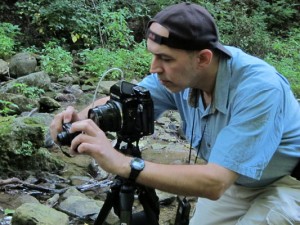 Well, ok…Dave really does use that big Pentax 6×7 for his "serious" photos…and has to change film every 10 shots now that he can't get 220 film anymore.  He just uses his S90 to get a digital version so he can post what he's been up to before he gets his black and white film developed.  I think he's still about a year behind on processing film, so it's good to have something available right away before he forgets what it was he was doing.
Dave's visit ends when he heads back home in the morning.  And in a week I'll be taking off for a trip to Florida.  I've been shooting quite a bit myself over the past few weeks, but haven't had time to do any editing on those photos.  I'll try to get to work on that soon and do some more posting over the coming week.